Podcast Studio Design-Build
Colorado State University needed a podcast studio in downtown Denver location. So they called Hannah Copeland who transformed their 10' X 12' office space into a 4-person recording studio. She purchased and installed Acoustimac sound panels to absorb echo in the room. To keep the space easy to use and professional-grade, she chose the Rodecaster Pro audio interface and microphones. Hannah used a soldering iron and hole saw to keep all cables and equipment clean and accessible on a small recording table.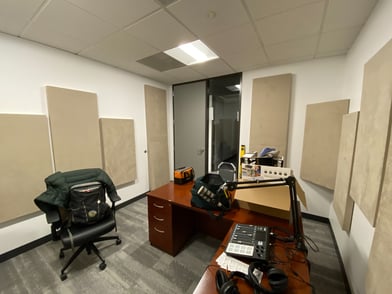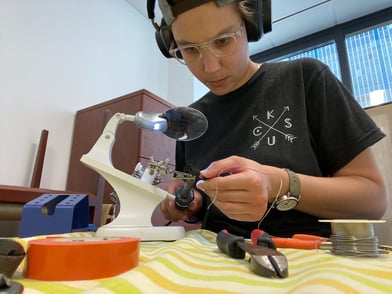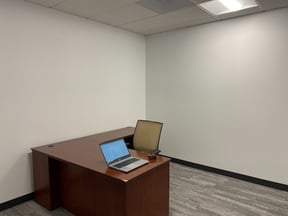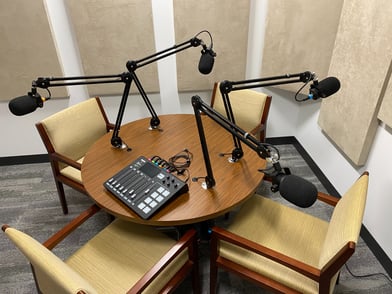 "It's Not Human Sexuality"
Reproductive Health professionals Dr. Betsy Cairo and Mandy Johnson have a mission to make reproductive health education available for free to any child, parent, teacher, or person who needs it. Developed in 2018, their show has three seasons and counting covering anatomy and physiology, conversations with reproductive health educators, and stories of sexual abuse survivors. Producer Hannah Copeland brings together the unique talents of the hosts to create a consistent and growing show.
10 billion mouths to feed by 2050. A diminishing water supply. Climate change. These are big challenges, and they require big solutions. This podcast aims to understand the forces shifting our global trajectory around food, water, and health by talking with people making a difference in these fields. The podcast comes to your from Colorado State University's Spur Campus in Denver, where global challenges are addressed through research and education, inspiring the next generation. Hosted by Jocelyn Hittle and produced by Hannah Copeland.
Colorado State University Adjunct Instructor Hannah Copeland has developed three original courses: Audio Production and Editing, Radio Operations, and Podcasting. Much of Hannah's teaching style derives from real world experience in the local music and local news world. Hannah also serves as the General Manager for 90.5 KCSU, CSU's student-run radio station. Hannah has developed a comprehensive 5-week DJ and podcaster program. The program includes an original digital text book, co-written with students, and audio files which students use to edit to their first podcast. Copeland possesses strong management and organizational skills, but recognizes the creative juices and talent of her students make KCSU a leader in the college radio industry.
Course and Organizational Development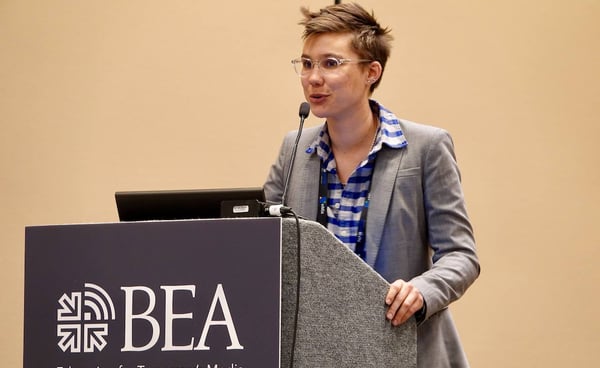 KCSU House Podcasts Concept, Produced by Students of 90.5 KCSU
The wheel is a beautiful thing, isn't it? You don't need to re-invent it! During the summer 2020 of the Covid-19 Pandemic, Hannah Copeland worked with KCSU students to re-organize KCSU radio content into four weekly house podcasts: KCSU Music, News, Sports, and Live In-Studio. The team re-structured the content that KCSU was already producing for radio to capture it in a podcast format. Now, listeners can head to the radio station's website or Spotify page 24/7 to hear new stories. All podcasts are still in-production today.
Many organizations already have stories in-house waiting to be told. It just takes some creative re-arranging to showcase them.
KCSU Music Director Lindsay Johnson
KCSU News Directors Kota Babcock, Ivy Winfrey, and Thomas Taylor
KCSU Asst. Sports Director, Jonathan Gillham
KCSU Local Music Director, Maddy Erskine
CSU's First Podcasting Class
Hannah Copeland developed Colorado State University's first ever podcasting course. She designed it so that students can produce a wide variety of podcast styles, and experience every part of podcasting from microphone to master. Students set up a home recording studio, develop themes for their stories, write, record, and produce real podcasts. Those episodes are then published on the "Audio Workshop of Colorado State University" podcast. There's no better way to learn than by doing, and that's why Hannah's classes are so hands-on. Every student will walk away with a published piece of work to be proud of.
After his nephew is disowned from his family for being gay, single and childless vineyard owner Sergio takes the boy in to raise him. In the process, Sergio must confront his own identity and feelings.

Hannah Copeland guided 6-students through the recording, production, and editing of this podcast. The show was recorded remotely in early 2020, before that was a common thing to do. Hannah mastered the final product before it's release in honor of pride month 2021. Learn more here.
Produced 10-Albums for Local Bands
In Hannah Copeland's audio production class at Colorado State University, students learn how to produce music for local bands. Each semester, Hannah's students split into two groups and set-up and produce the recordings of 4-songs for a local band. The class mixes the songs, and the bands choose their favorite mix. The winning mixes are published at KCSUFM.Bandcamp.com. The course helps local musicians obtain quality recordings and gives students a chance to publish their work. Read the full story here.
"International Local Music Exchange"
ILME features a different music and hosts from a different local music scene around the world on each episode. Any local music fan is welcome to create a one-hour local music program to feature on this podcast.
Our goal is to make the International Local Music Exchange a regular podcast and radio show that any radio station or listener can share.
The International Local Music Exchange is a partnership formed by Oregon State University (KBVR), Colorado State University (90.5 KCSU), Loyola University Maryland (WLOY), and The College Radio Foundation. Hannah Copeland helps coordinate and produce this show.